For the upcoming Fall Season White Boots are going to be all the rage. In certain places right now we are beginning to transition into our cooler weather wardrobe. A white boot is all you need this year for a simple hoodie and leggings fit, or sweater and skinny jean outfit, the white boot is going to be your friend. throwing on a pair of white boots adds a soft touch to denim and looks great paired with workwear and even tights.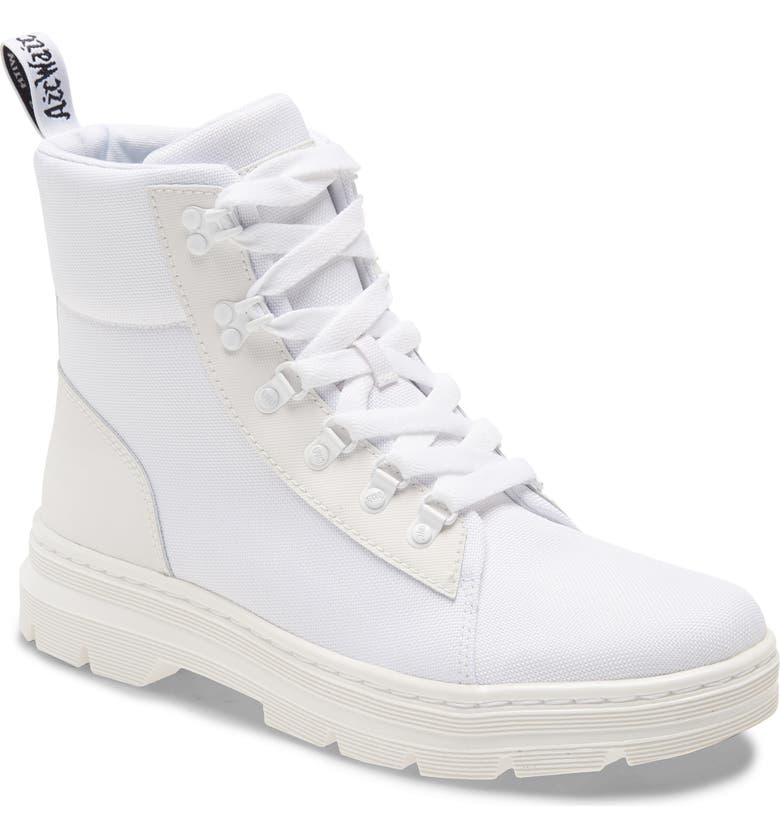 Here are styles of must have white boots that you are going to need for this coming season, and don't forget to check out the the styling tips with each pair.
Check out these amazing Dr. Martens utility boot. I would consider theses to be a crossover between a timberland and a a classic doc boot. The combination of leather and the chunky sole make this shoe one of the most perfect boots for anyones closet and price range. For $89 I highly recommend adding this boot to your collection. below are some tips on how to style these boots for anyones personal style.
Some of my favorite casual pairings for these boots can be seen a above. Swap out the classic Doc boot that you seen in the photos and add the new all white utility boots to any of these outfit inspos and you will be having yourself a whole look. My favorite outfit styling can be seen in the last photo, a simple sweat suit and layering jacket paired with your favorite pair of sunnies and handbag is not only comfortable, but extremely chic paired with the all white boots.
Who doesn't love a simple yet gorgeous heeled boot. Take your favorite skinny jeans, turtle neck, and jacket, and turn your outfit from a 6 to a ten just by adding a simple heeled white bootie. Everything looks good with a heeled bootie, you can take the most basic outfit and really dress it up by adding your favorite boot. You can see all your fav celebs rocking white boots this season. Take a look at some outfit inspo below and find some boots that speak to you and your personal style.
Lastly Let's take a look at some other styles of White boots that might interest you wether you're someone who is constantly on the go, or loves a good statement for going out, some of these styles below might be perfect for you.
Thanks for reading! Feel free to check back daily for new content. While you're here check out the new posts for this week. Thanks for Visiting Luxury Loop where we always keep you in the Loop.